ARMORING VEHICLE PROCEDURE
The purpose of armoring a vehicle is to protect the passengers,
not necessarily the entire vehicle itself.
Towards that end, STAR MOTOR ARMORING TECHNOLOGIES INC. provides different security packages that can help negate any threat an individual may face.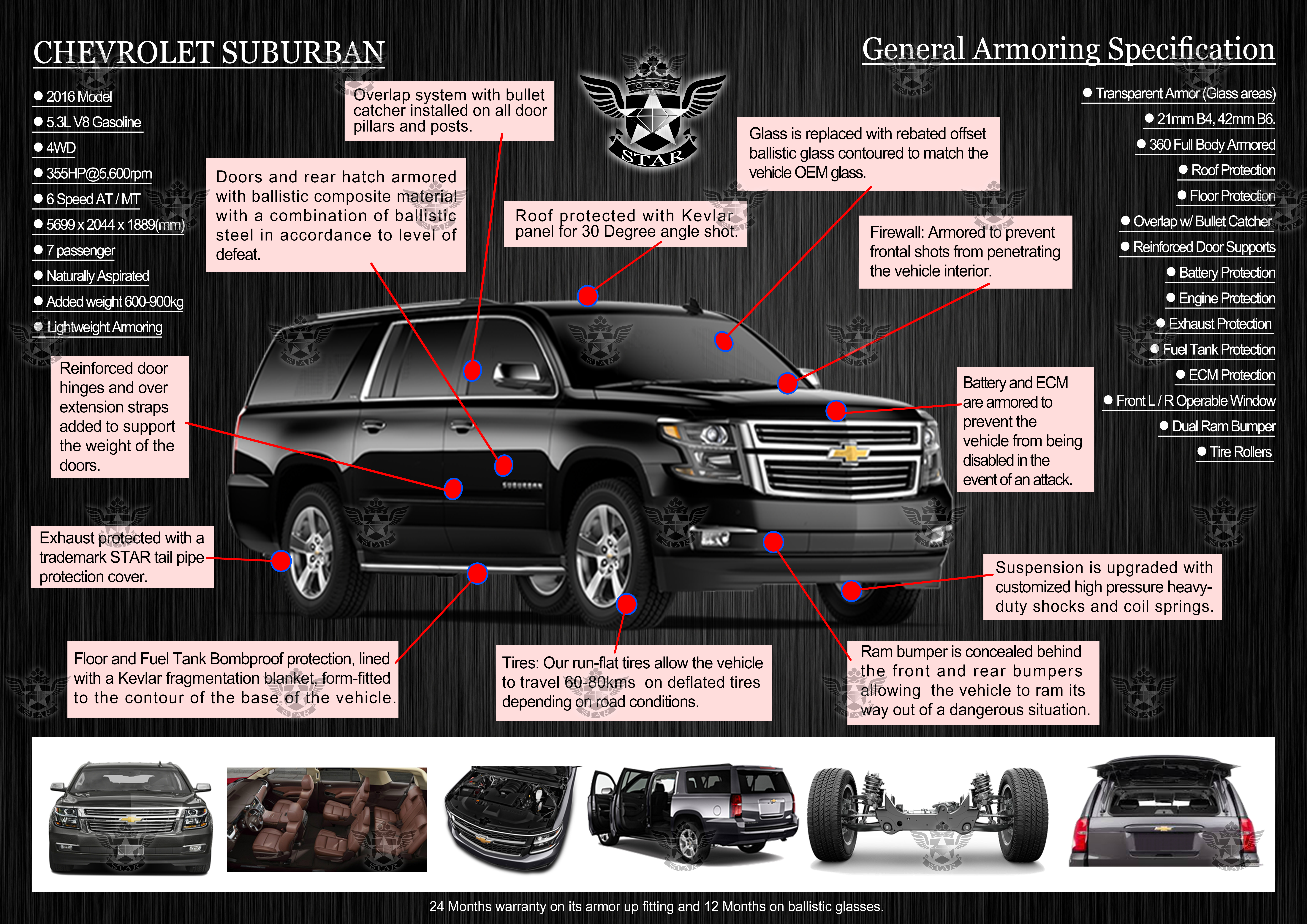 We offer several packages ranging from
handgun protection up to high powered rifle protection.
We use ballistic rebated offset glass that match the OEM glass of the vehicle.
Lightweight armoring kits are installed,  
thus providing maximum protection coverage
depending on our client's needs.
PHASE 1: INCOMING INSPECTION
Interior and Exterior condition
Mechanical, electrical and performance
Measure incoming weight and height
PHASE 2: KITS PREPARATION
Armoring kits are assembled in our facility and ballistic resistant glass are imported from the supplier of choice.
PHASE 3: KITS PREPARATION
Removal of the interior components Doors, glass, trim, panels, aircon etc.
PHASE 4: ARMORING THE VEHICLE COMPONENTS
FROM FRONT TO THE REAR, TOP TO BOTTOM, INSIDE AND OUT.
The removal and installation of vehicle parts, armoring kits, suspension upgrades, ballistic glass, may require special tools and expert knowledge. Removal and installation are only performed by a fully qualified, armorer certified, professional.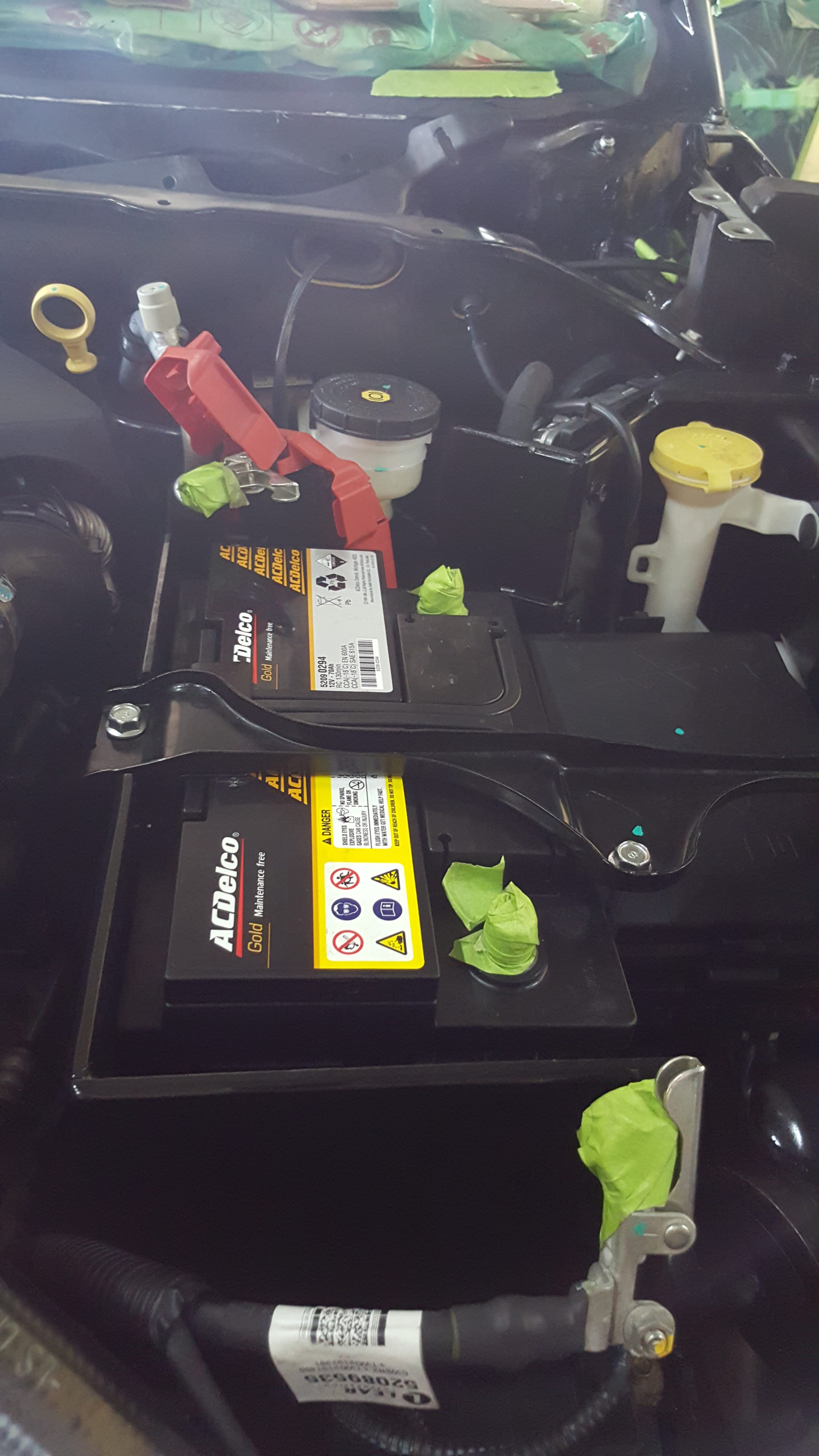 Battery Protection and Engine Computer ECU Protection
-Encased in ballistic steel.
Fender Armoring
-Front fenders lined with ballistic steel.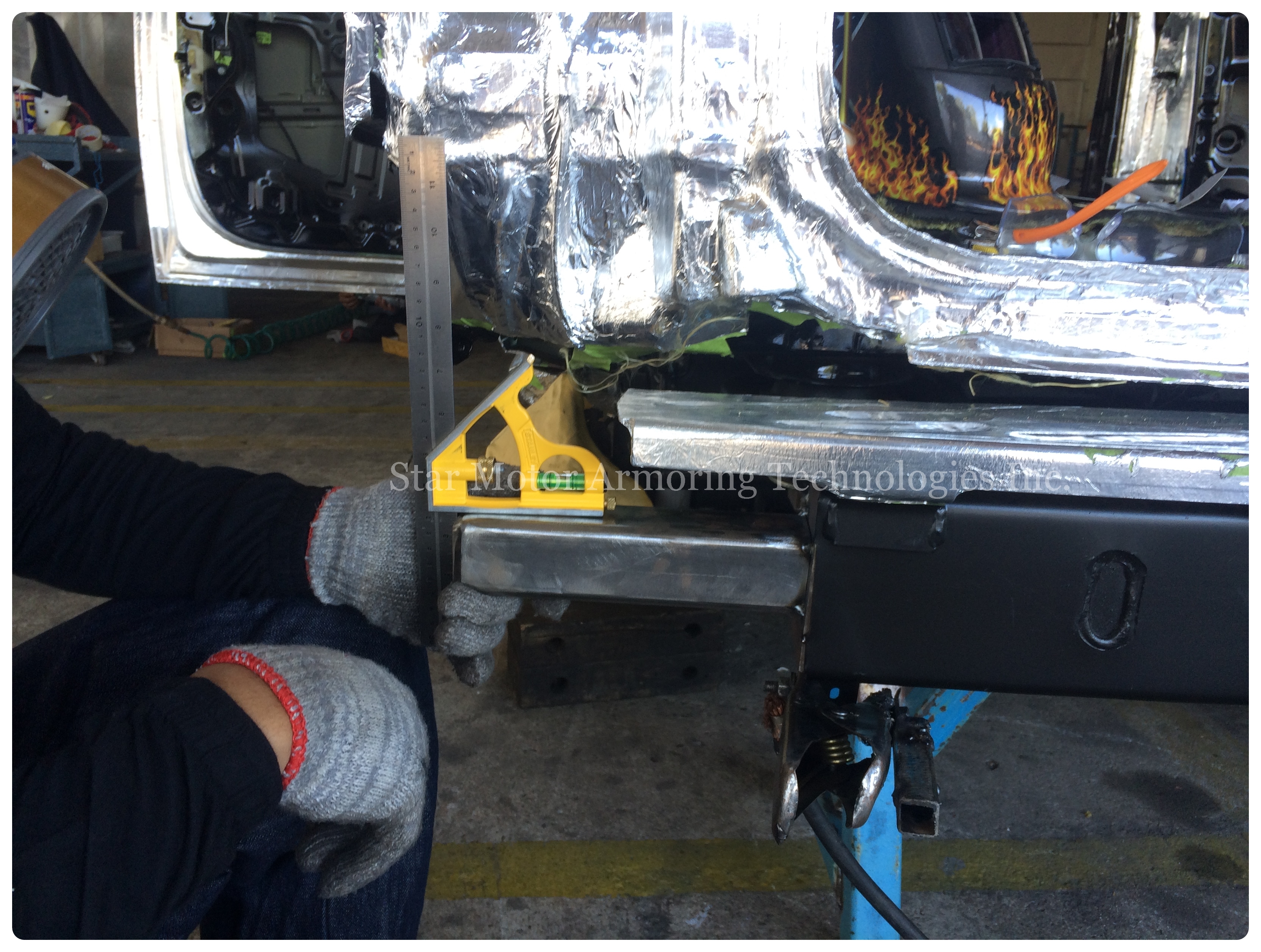 Reinforced bumpers
-Additional reinforcement mounted behind bumpers. Maintains low-profile look.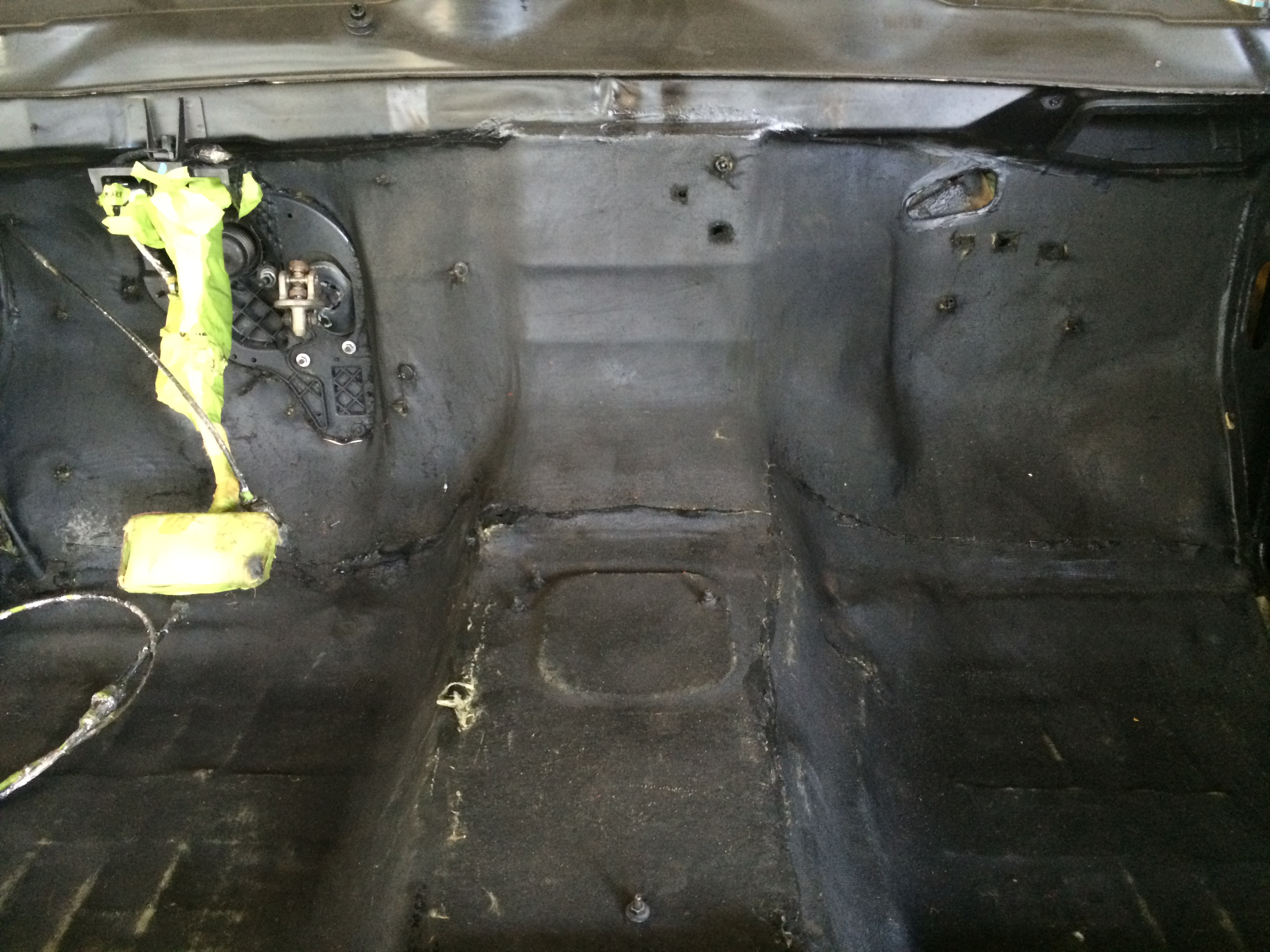 Firewall
-Kevlar Laminated Panel provides protection up front.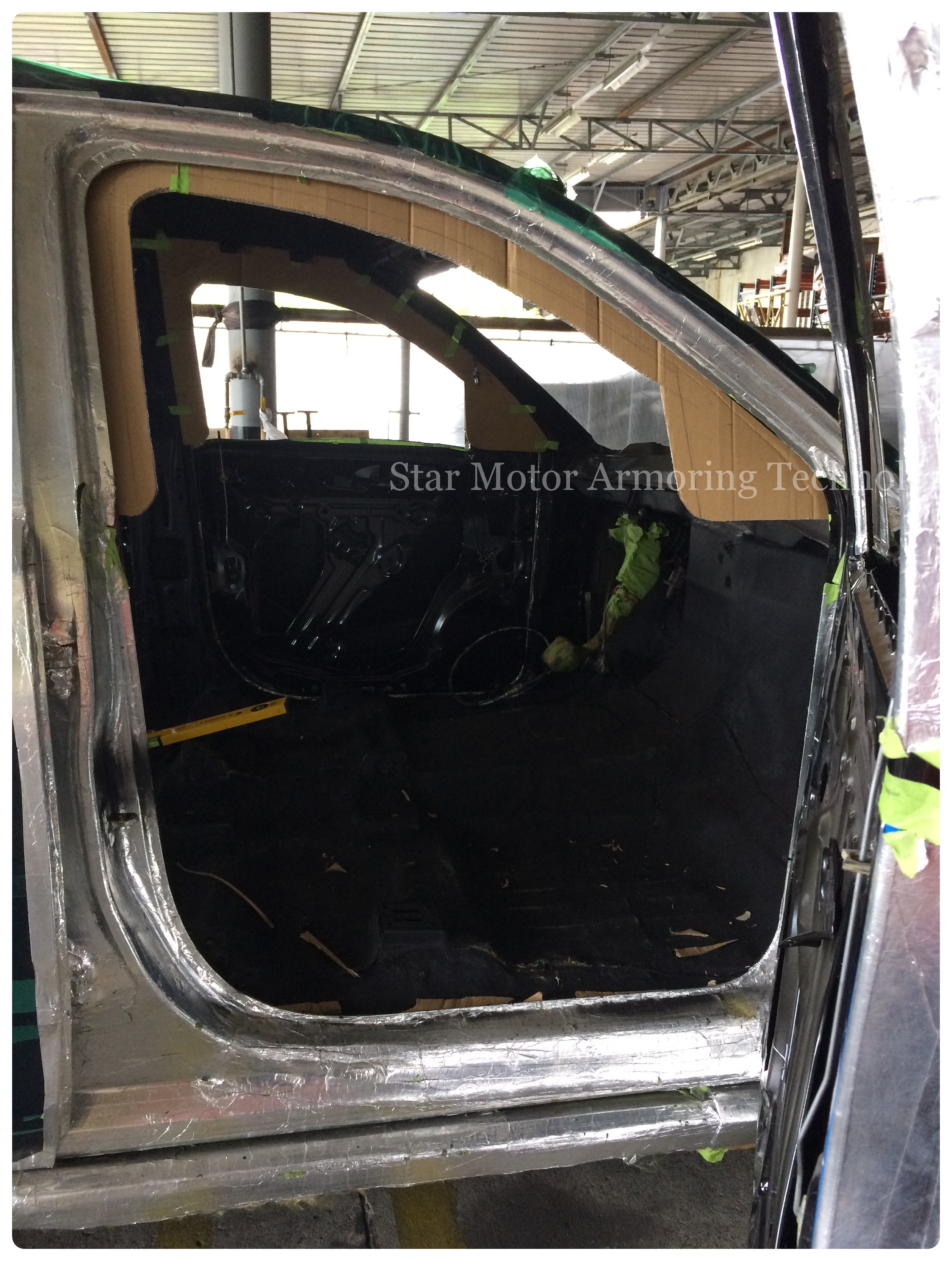 Doors
-All doors are lined with Spectra shield and armored steel.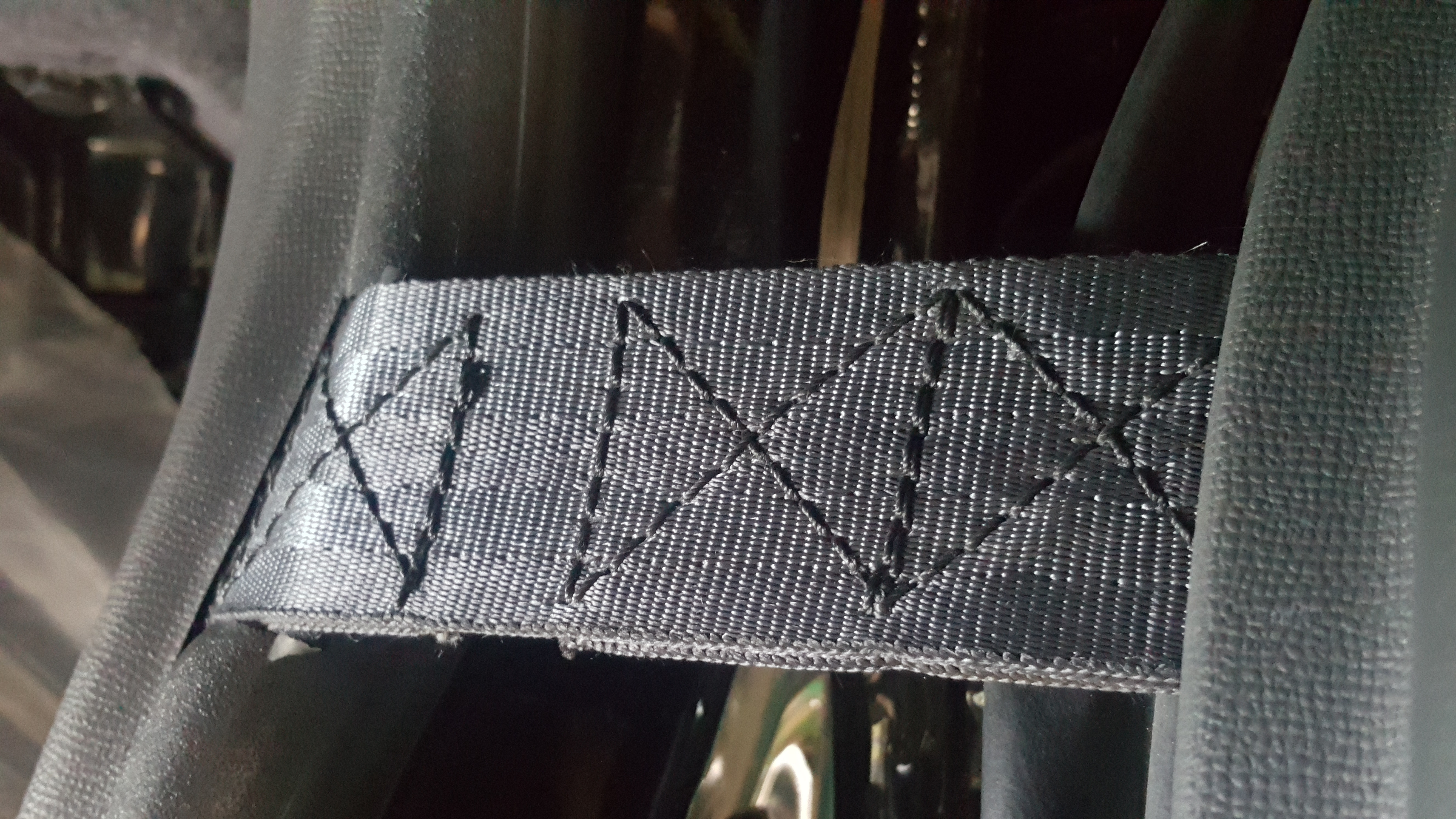 3rd Row Straps
-Additional hinges to withstand the weight of the armored doors.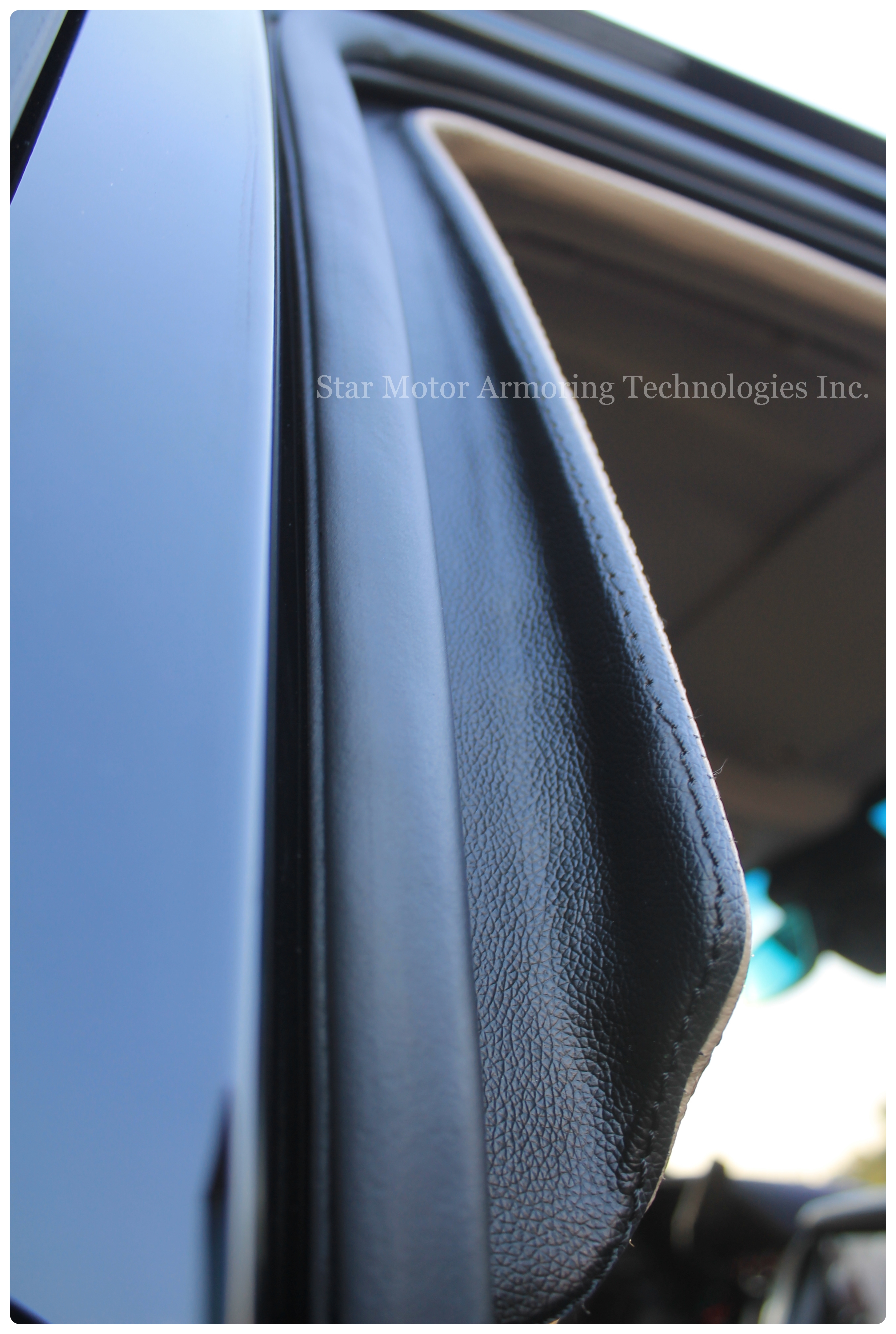 Overlaps
-Angle shot protection on pillar posts
-Armor Overlaps are used for all doors and windows.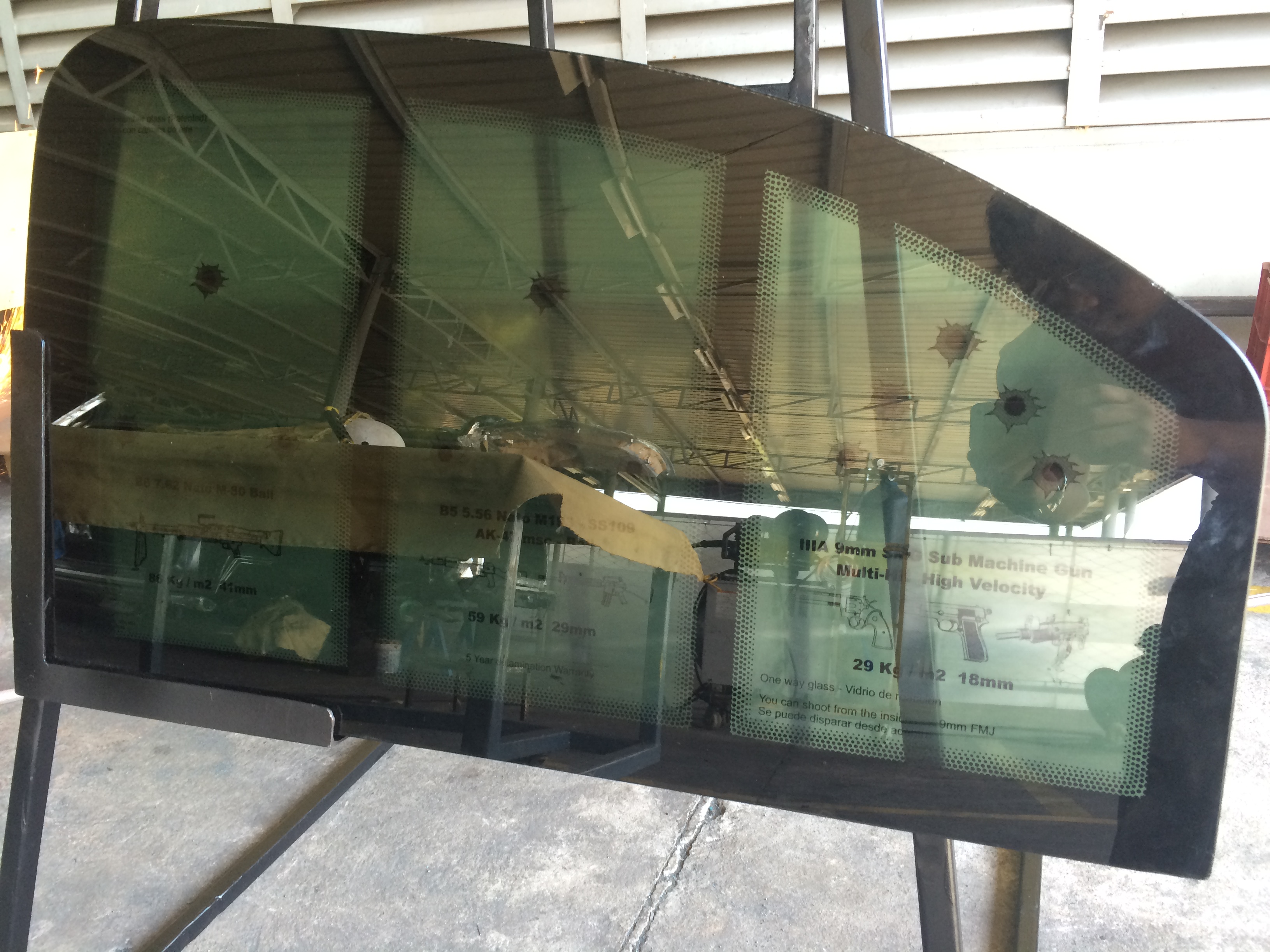 Rebated offset ballistic glass
-Multi-hit Protection – All windows are capable of sustaining multiple hits ensuring protection to passengers.
-Anti-Spall – Anti-spall layer prevents glass fragments from penetrating into passenger cabin.
-Power Windows Lowers approx. 5 inches (front doors only).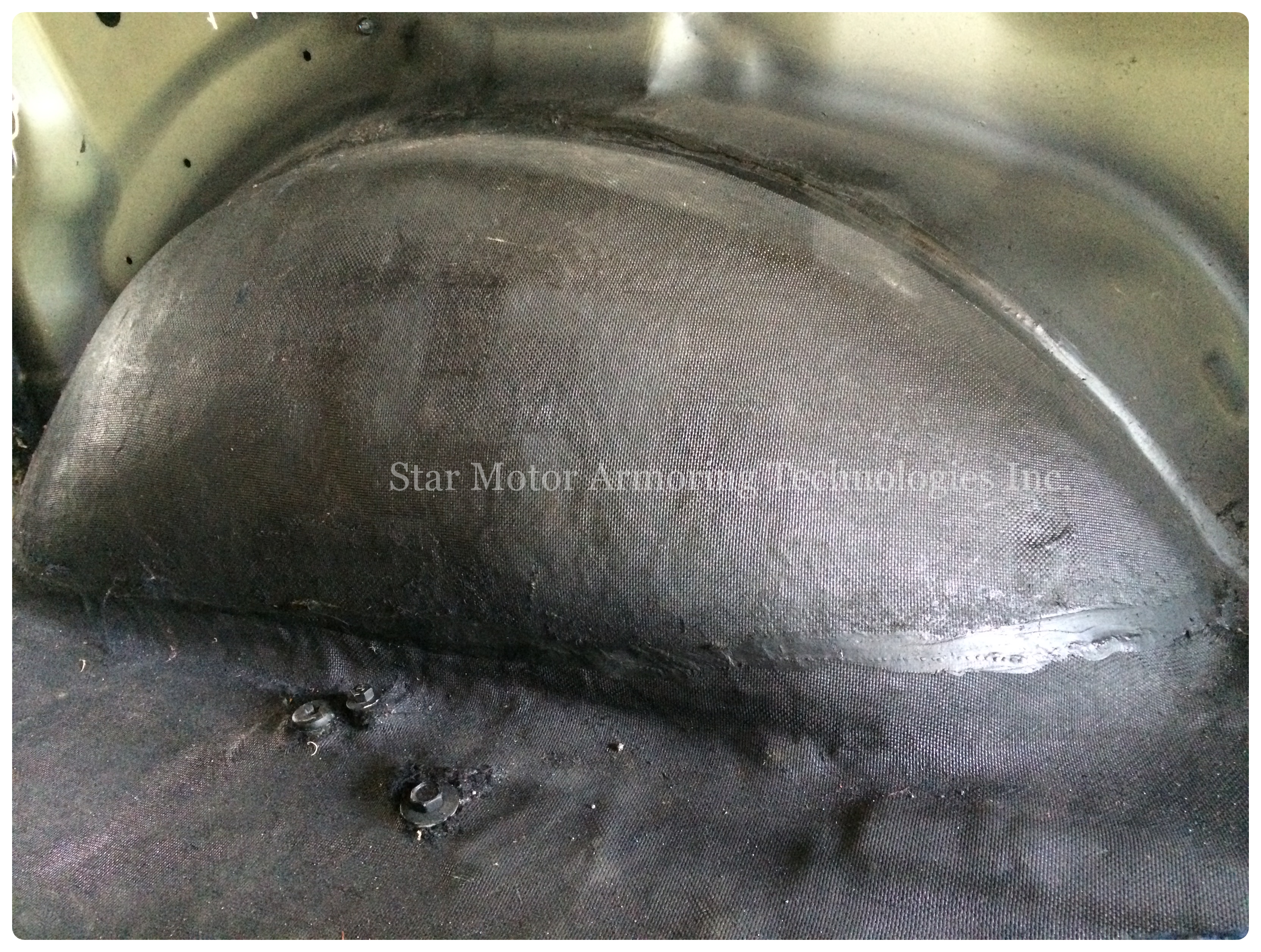 Wheel Well Arch
-Front and rear wheel wells are lined with Kevlar panel and ballistic steel.
Roof
-Roof is lined with Kevlar Panel following the curvature of the roof.
Floor
-Lined with fragmentation blanket. That is formed fitted to contour on the base of the vehicle.
Bomb Proof Installation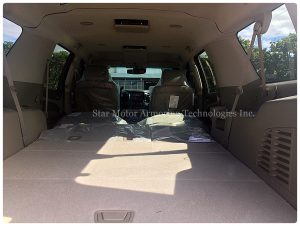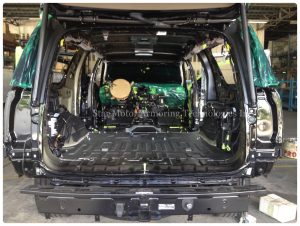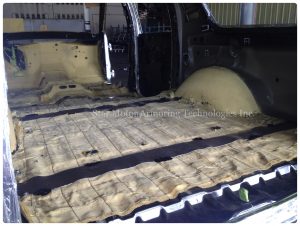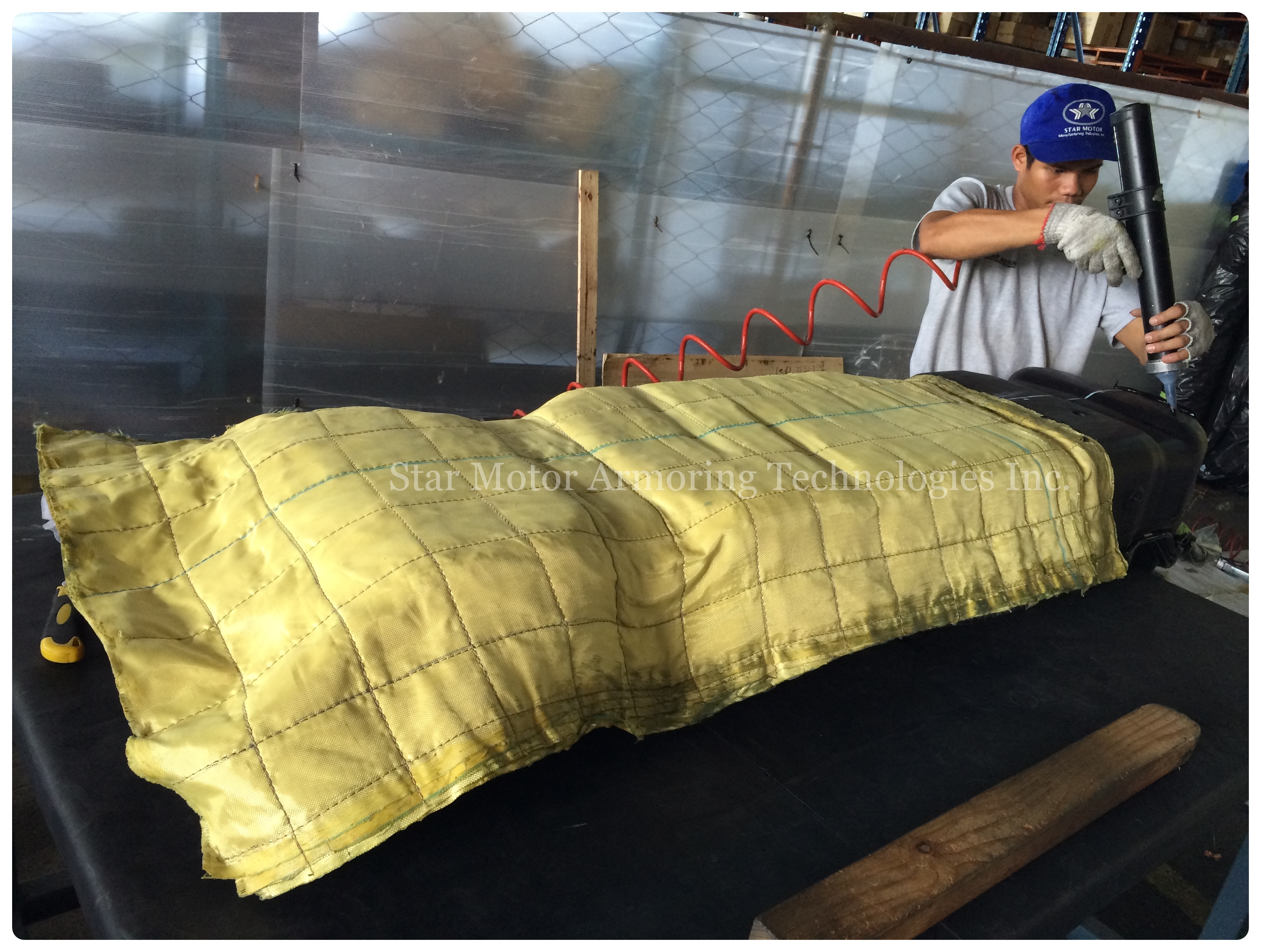 Fuel Tank Protection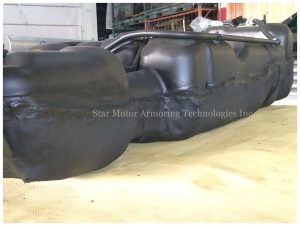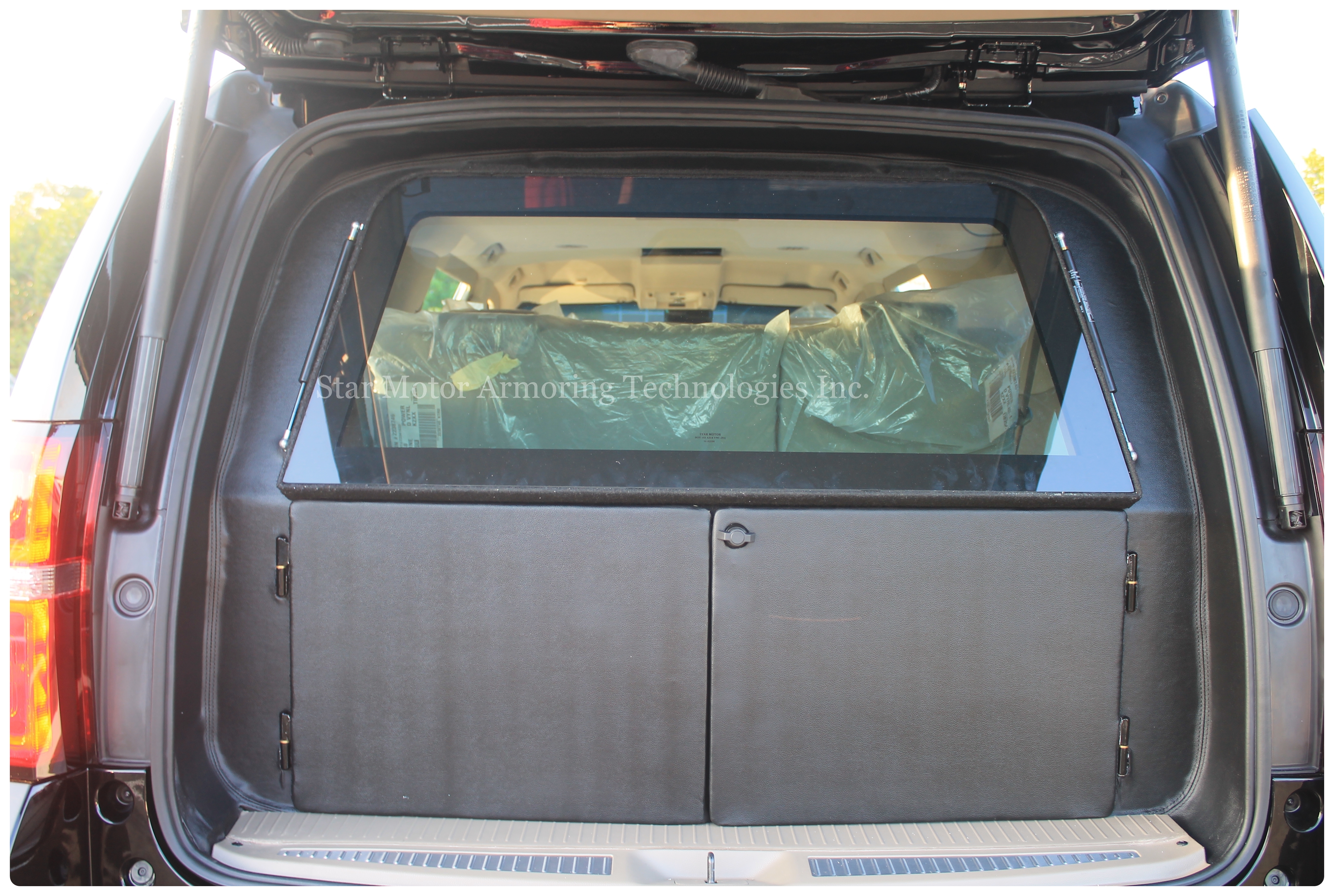 Rear Hatch
-Steel rear partition with double swing doors, using heavy duty hinges to accommodate the added weight.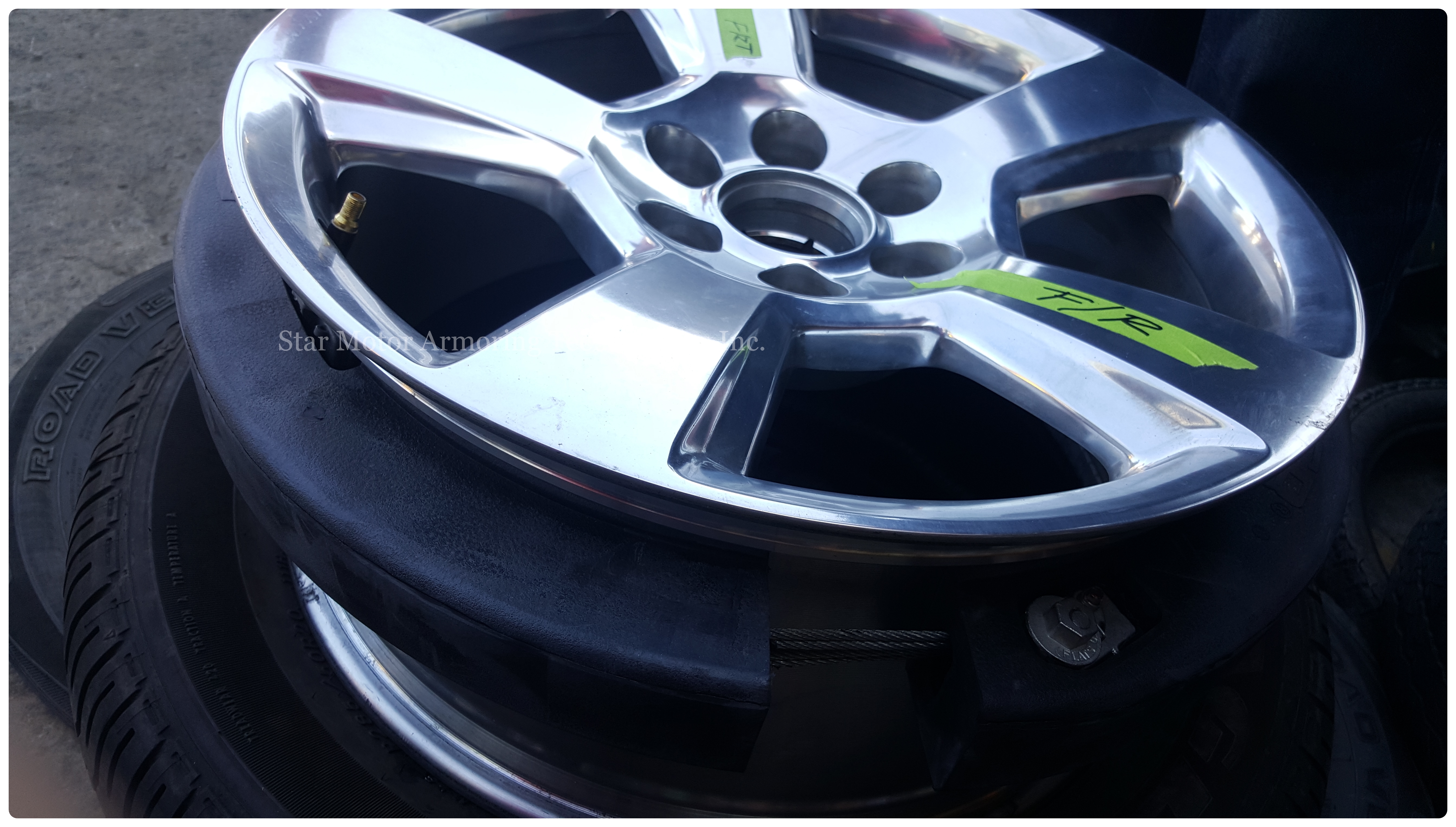 Run-flat inserts
-Four (4) run-flats installed. Rated for 60km/h (30 miles @ 30mph).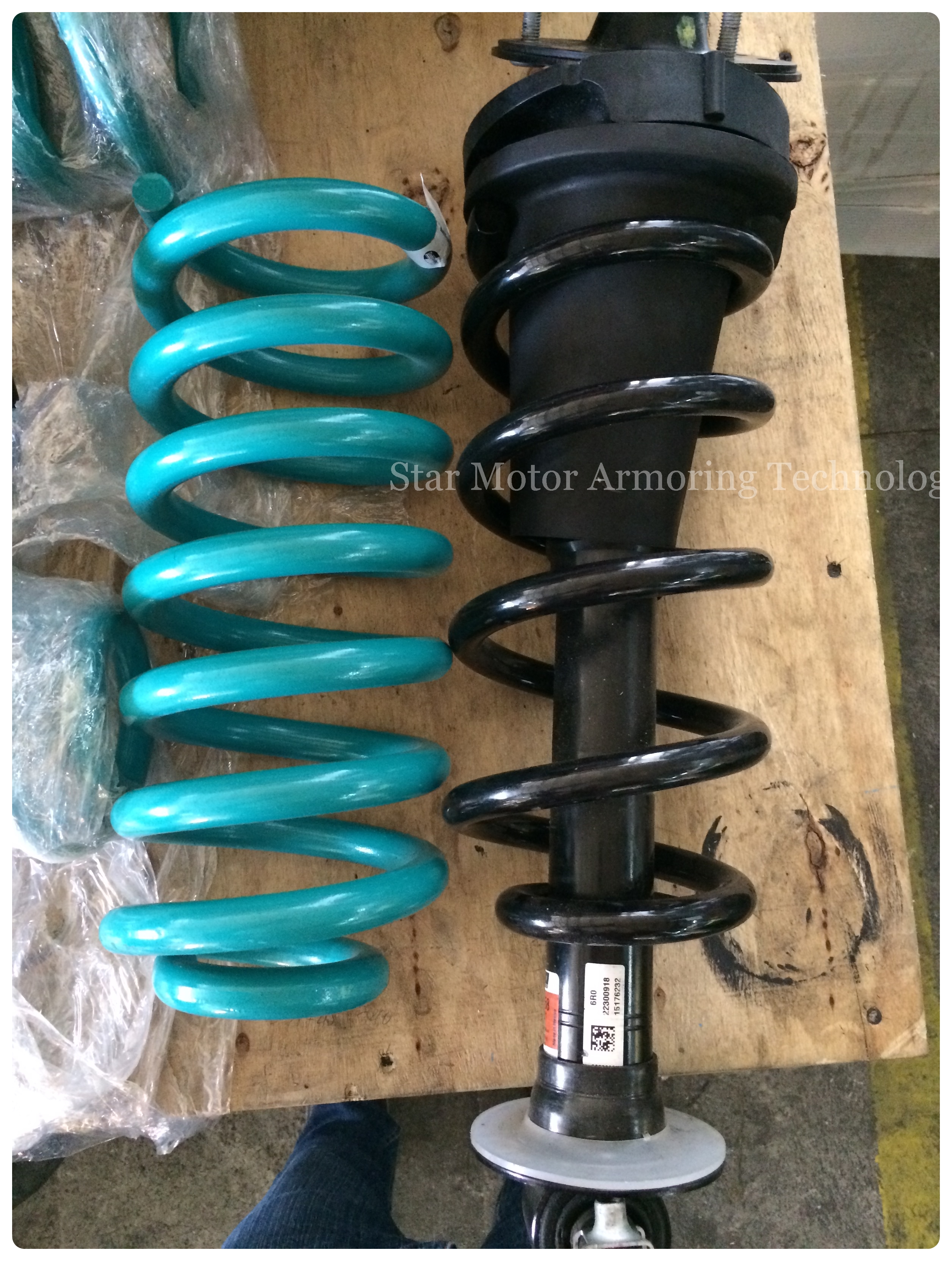 Suspension Upgrades
-All springs and shocks are replaced with upgraded models.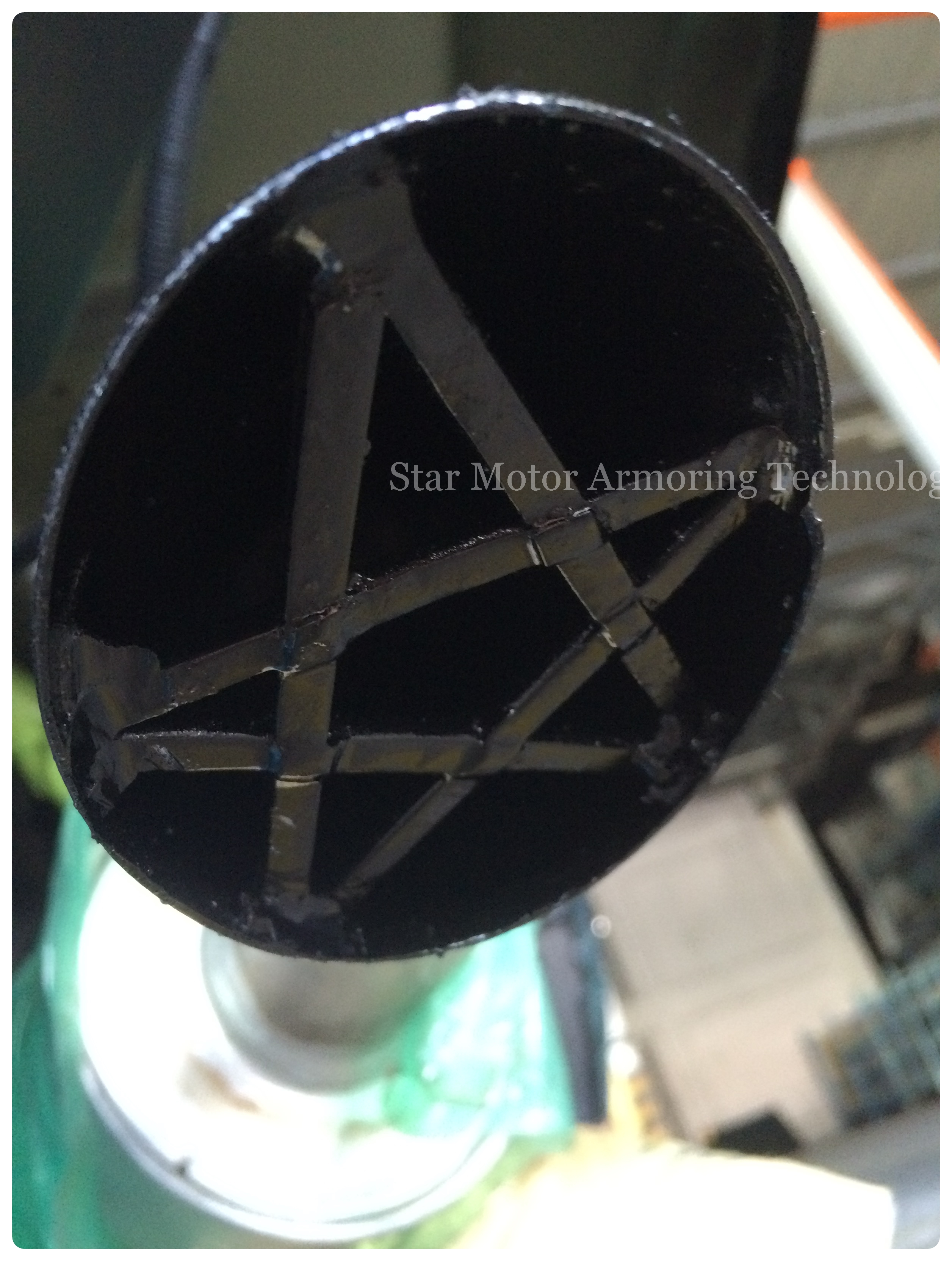 Tailpipe Protection
-Protects exhaust pipe from being sabotaged.
PHASE 5: INTERIOR INSTALLATION
Trimming and re-installation of vehicle parts and components.
PHASE 6: COMPLETED VEHICLE
Exterior – Interior Photo, Quality Control and Inspection
Ballistic Test
Opaque and Transparent Armor is comprised of many different materials.
We implement the most cost efficient and lowest weight solutions for Private Armored Passenger Vehicles.
Vehicles armored with lightweight armoring kits will have an increased life,
maintainability of original performance and less of the service issuescosts commonly associated with heavy, steel armored vehicles.
Address
#2272 Pasong Tamo Extension Makati City, Philippines
Email
sales@starmotorarmoring.com
Contact Numbers
Telephone (02) 624-1688
Globe 09171243555
Smart 09493305197